New Era has provided a variety of web accumulators to handle a wide array of webs and process needs.  Each unit is engineered to meet the application's storage, speed, tension, space and environmental requirements.  While nearly all accumulators we build have linear rail supported carriages and ball screw, variable frequency drive positioned idler rolls, there are a variety of designs based on web width, tension and storage requirements. 
For narrow web applications, New Era manufactures cantilevered style accumulators, some with a single carriage, and others, for very narrow webs, can have multiple carriages to maximize storage.   Another method for increasing storage space while minimizing the equipment footprint is a tri-pass accumulator.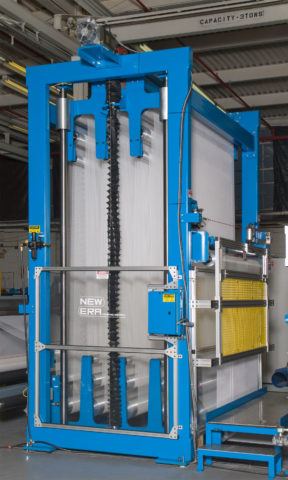 In this design, idler rolls of varying diameter are used to effectively triple the amount of material which can be stored in an accumulator.   These designs are particularly valuable for retrofits and large process lines where floor space is at a premium.  All of our accumulators feature straight through web threading and self lacing as the carriage engages the web to fill the accumulator.  The equipment perimeter is always guarded on all four sides, some of which contain interlocked doors for threading and maintenance.