New Era offers fully turnkey solutions for new silicone coating lines from concept design through startup and commissioning.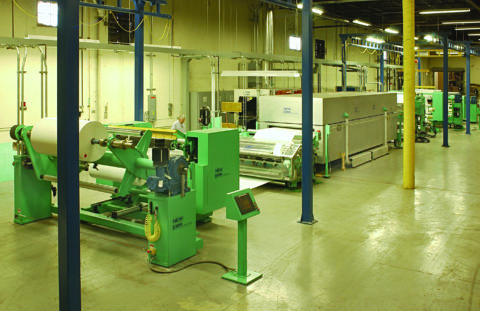 Our pilot test facility gives clients and opportunity to trial various silicone formulations on a variety of coating applicator heads, enabling them to fine tune their process specific to the market segment they intend to target.  Silicone coating line systems we have provided range from roll to roll style equipment for relatively low line speeds, up through fully automatic systems with turret unwinds and winders for high speed production lines.  In addition, we have provided offset gravure or multi-roll coating heads, including four, five and six roll systems, depending on the coating formulation and coat weight range that our clients are looking to apply to the substrate.  For others, we have supplied modular or cartridge style coaters which can accomplish any of the coating methods mentioned above. 
Our machines are used across a number of market segments to produce silicone release liners, both single and two side coated, for the pressure-sensitive adhesive industry.  These could be for products such as labels, medical, tapes, construction and graphic materials.   
In addition to complete production lines, we also can provide individual equipment sections to upgrade an existing machinery to simple increase capacity, or in other cases, add capability that previously did not exist.  Additionally, we can include adhesive coating capability on the back end of one of our silicone coating lines to allow for in-line lamination and the production of adhesive backed products with a liner.  
40 – 100″ (~1000 – 2500mm)