Zero Fold-Over Winding System for Optimal core starts
New Era's patented Carousel turret winding system was designed specifically for products which cannot tolerate any fold-back, wrinkles or imperfections at the core.  Many products can have significant scrap generated when these imperfections at the core start "show through" to each successive wrap of material, and the Carousel Winder addresses this.  Not only can the Carousel Winder eliminate these imperfections at core start, but it can hit a single strip of double sided tape on the core, thereby avoiding product losses associated with a spiral wrapped core.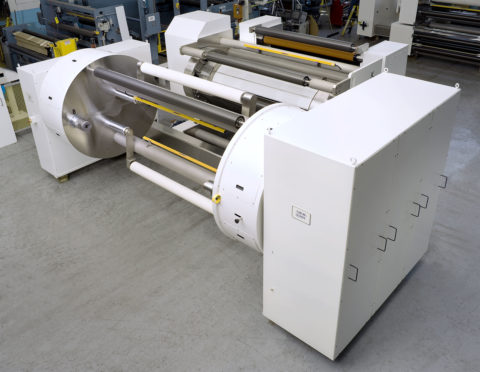 Our patented system utilizes a traversing blade at full line speed, without the use of an accumulator.  The design of the winder transfer mechanism eliminates the bias cut typically associated with traversing cutoff blades by having the blade travel at match line speed with the web.  This enables the Carousel Winder to provide a straight, clean cut leading edge of material to the core at full line speed.  In addition to a clean cut, traversing blade cutoff technology also affords the Carousel Winder the ability to cut much tougher materials than other traditional cutting methods.  This winding system is ideal for clean room environments, high value products and sensitive web materials which can be damaged by any imperfection at core start.   All of our turret winders are provided with automatic tension control and diameter calculation, and can also incorporate features such as shaft-less chucking of varying web widths, pack winding or gap winding, automatic guiding, built in pull rolls and tool-less changeover of winding modes.  See the video below for a zero fold-over, Carousel style winder shown during an FAT at New Era Converting.