The following is the first part in a series of 4 blogs that will go through a white paper written by New Era Converting Machinery's Bob Pasquale. The white paper is titled "An Overview of Roll Coating Methods, Capabilities and Limitations."
Part 1 will offer an overview and introduction to the blog series. Part 2 will discuss Kiss Coaters and Squeeze Roll Coaters. Part 3 will go through Gravure Coating, Offset Gravure Coating, and Reverse Roll Coaters. Part 4 will wrap the series up, finishing with Transfer Roll Coaters and Other Roll Coaters, and then offer a brief Conclusion.
—–
OVERVIEW:
"Roll Coating" is a common phrase used in our industry. There is a multitude of methods and configurations that fall into this broad category. In this paper we will review many of these methods, comparing their designs and capabilities. We will cover the traditional roll coating methods such as gravure, offset gravure, reverse roll and multi-roll transfer, as well as several other variations that are used, discussing their capabilities and limitations in areas such as laydown rates, speeds and viscosities.
INTRODUCTION: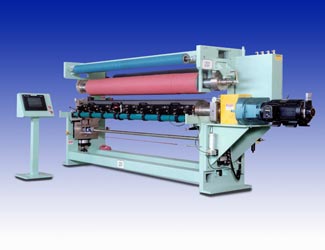 In this paper we will discuss many different coater designs that use a roll or rolls as the method to apply a coating to a web. These coater designs are typically defined by the number of rolls, the configuration of the rolls, the design of the rolls and the method used to transfer the coating to the web.
We will review the traditionally roll coating methods such as kiss, squeeze roll, gravure, offset gravure, reverse roll and multi-roll transfer coaters, as well as some of the less traditional methods. As part of this review we will discuss key design features of each method.
The choice of which coating method is most appropriate for a particular application is determined by several factors including the speed of the process, the required coating laydown rate, the viscosity of the coating and the web material. As part of this paper we will cover the typical operating ranges for the various coating methods. We will also address several of the other factors that affect the selection of a coating method such as the capital cost of the equipment, repeatability of the coating method and the ease of set up, clean up/change over to a new coating, changing of the coating application rates and maintenance.
This paper will cover coaters that can be used for applying solvent based, water based and 100% solid coatings including hot melts. Though many of the photographs and illustrations used throughout depict dedicated coaters, the discussions covered equally apply to modular and cartridge style coaters.
Though there many different types of non-roll coaters that can be used to apply coatings such as slot die, curtain, extrusion, spray and knife, for purposes of this paper we are focusing on those coating methods that use rolls as the primary means of applying the coating.
There are many different ways one can organize, order and present the various roll coaters that are to be discussed. For purposes of this paper we elected to present them in order of the number of rolls used in the coater.
Finally, we point out that this paper is an overview of several different roll coating methods. Though we do touch upon several different methods, there are certainly many other methods that are available that are not being included. Additionally, though we provide certain general information about each coating method, there is significantly more information regarding the design, operating parameters and use of the various coaters that is beyond this introduction.
###
*That concludes part 1 of our 4 part blog series, "An overview of Roll Coating Methods, Capabilities and Limitations" – click here to read part 2, click here to read part 3, and click here for part 4!*