New Era is a global enterprise focused on providing custom designed equipment solutions for the web handling industry.  With decades of industry experience, we can apply our engineered solutions to provide you with web handling equipment tailored to your converting needs.  We have a great deal of experience with coating, laminating, calendering and drying systems for a wide variety of environments and our customer base spans most industries which handle materials in a roll to roll fashion.
With installations in over 20 countries worldwide, our staff is well equipped to handle projects for CE, UL/CUL, CSA and other local standards.  Turnkey installation and startup support is available around the globe and our service  group is available onsite or through remote access features provided with all our equipment.  Our sales team is represented across North America and also includes dedicated personnel in Europe and Asia.  
Optical Materials
Coating, laminating and embossing of opaque, translucent, transparent and reflective films and flexible glass
Medical
Coating and laminating equipment for dispersions and reactive chemistries for making transdermal patches, tapes, personal care products, packaging and first aid dressings

Adhesives
Solvent, water or hot melt based PSA's for the tape and label industry
Energy
Custom equipment solutions for battery, fuel cell, photovoltaic, capacitors, flexible electronics, RFID, lighting and separation membranes
Aerospace
Equipment for the production of advanced aerospace interior & exterior materials including carbon fiber products
Automotive & Traffic
Coating, laminating and embossing equipment for the fabrication of automotive products & reflective films for traffic management
Packaging
Machinery for a wide variety of packaging products used in protection, containment, security and marketing
Graphics
Coating systems for anti-reflective and glare dispersions, printing primers, inks for commercial graphics, coated textiles & digitally printed materials

Filtration
Equipment lines for the production of air or water filtration media, medical filtration products and purification membranes
Construction
A wide array of equipment for the production of window films, roofing materials, insulation, flooring and a range of other building materials
The best thing that we experienced working with New Era was the business relationship that we developed over time. It started with the fact that they are a bunch of very competent people and engineers and know the business very well. New Era's equipment has improved our operation here at Waynesville dramatically through the reduction of missed splices. We are currently making 99.5% or better of all splices for all reasons so that's not just the equipment, that's including operator and raw material issues. So that is much better than what we were experiencing prior to the installation of the New Era equipment. What I like most about the New Era Machinery and their services is that from the time we actually started negotiating to the time we engineered all of the equipment, they were a partner. The best thing that I liked is they did what they said they were going to do, and they did that every time.
Jay Clary
Extrusion Business Unit Manager, Evergreen Packaging
This new line, besides being very sophisticated for technical processes, looks great as well. New Era did a great job dressing this line up for us. Now when we bring people through our facility, this line is the showpiece that everyone wants to see and we get a lot of compliments on how well it is all put together.
John Guzzo
President, Polykote Corporation
As the project proceeded, we were given drawings almost on a daily basis for approval. Once those drawings were approved they went into production. This happened for 3-4 months and a couple months after that we were installing the piece of machinery, very seamless and painless. If we had ideas that we wanted something changed, they just figured out how to do it. We had several components from different manufacturers and they put it together seamlessly. It just works every day.
Ron Foley
VP of Operations, Maxpro Manufacturing, LLC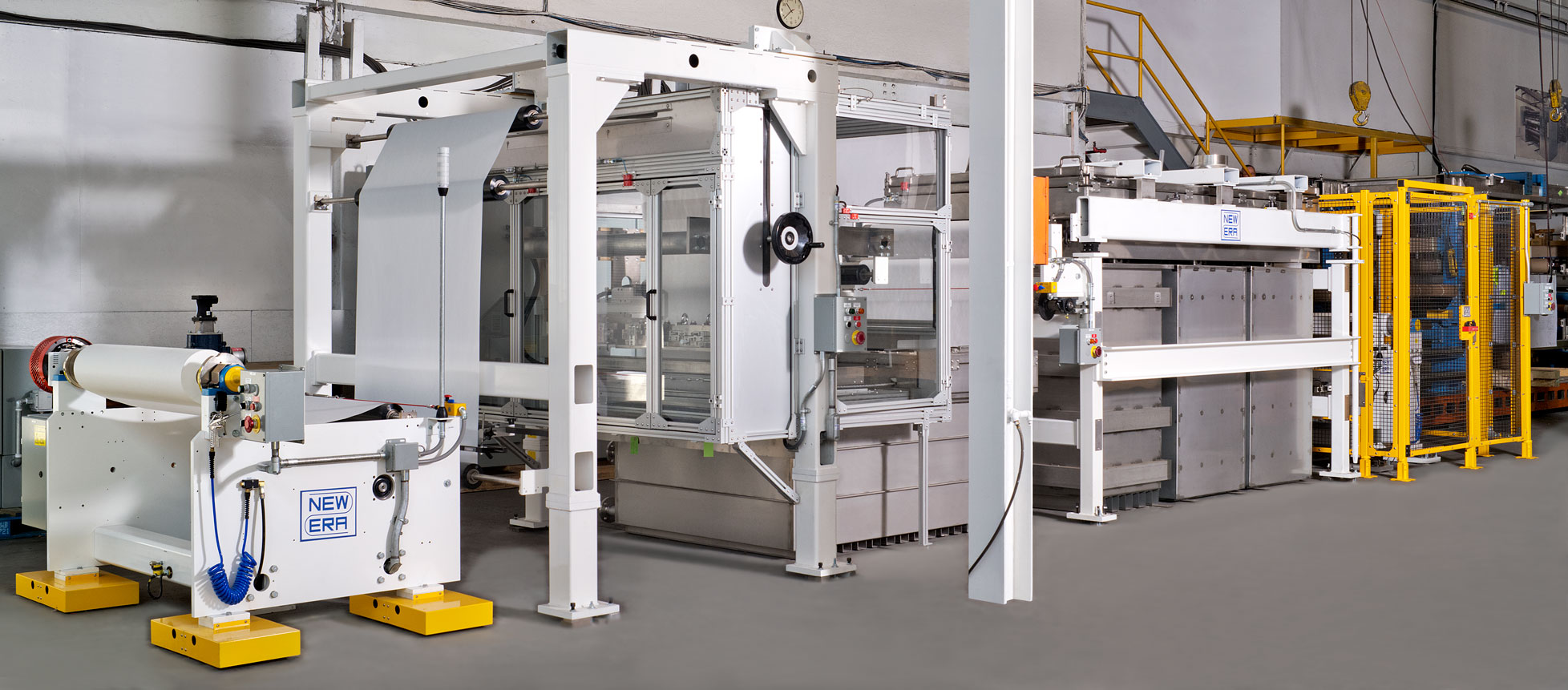 This video shows a versatile, CE Compliant, Membrane Casting Pilot/Production line set up for customer acceptance at New Era. The line features a compact design
Learn More
New Era is pleased to announce to completion of a successful Factory Acceptance Test for a versatile CE Compliant Membrane Casting Pilot/Production Testing line.  The
Learn More