Paterson, NJ (September 20, 2016)…As part of its ongoing effort to provide clients with cutting edge technology, New Era has begun an extensive project to upgrade its pilot facility. This upgrade will not only improve the functionality of the existing equipment, but will also add process capabilities, expanding their ability to help customers develop, prove and fine tune a process. Planned improvements will be staged and implemented around currently scheduled client testing to allow for as little disruption as possible. The existing pilot facility is designed to allow testing of webs under a variety of coating, drying and laminating conditions.
"Our pilot facility is designed for maximum flexibility, says Tom Lombardo, VP Mechanical Engineering at New Era. "Our modular coating system, as constituted, allows 15 different coating methods, with the ability to modify for more specialized coating application techniques. Couple that with modular unwinding systems for varied lamination locations, a dryer system with multiple conveyance possibilities, and the ability to add major subsystems such as IR and UV, and you have one of the most unique setups for testing within our industry."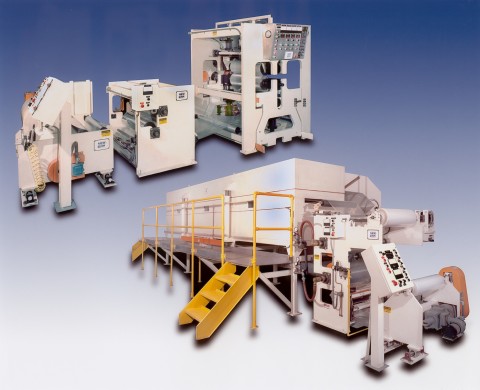 The largest of the upgrades will be a new, state-of-the-art drive and control system featuring the latest AC vector drive technology. In addition to new drives and PLC, the system will feature local touchscreens and a client based supervisory system.
"The supervisory system will provide a tremendous benefit to our clients with regard to the volume of data related to specific trials that will be available to them, both in real time and upon completion of testing, to evaluate results," says Ray Simpson, VP Drives and Controls at New Era.
Another large retrofit will add capability to the existing pilot facility in the ability to coat hot melts. The current plan is to add permanent melter capability and to make modifications to both the die coating module and several roll coating modules, which will allow multiple application methods for hot melts.
"Many people in the industry hear the term hot melt and immediately think of slot die as the application method," says Lombardo. "While slot die is the primary method we see, many of our customers utilize a variety of roll coating methods for hot melt and we want to be able to support all of these technologies in our lab."
Other projects will be ongoing during the major retrofits above, including a new coater enclosure, improved conveyance rolls, and process instrumentation.
New Era is very excited about these improvements and welcomes prospective clients to come see the facility if they have any interest in new equipment or lab trials.
###