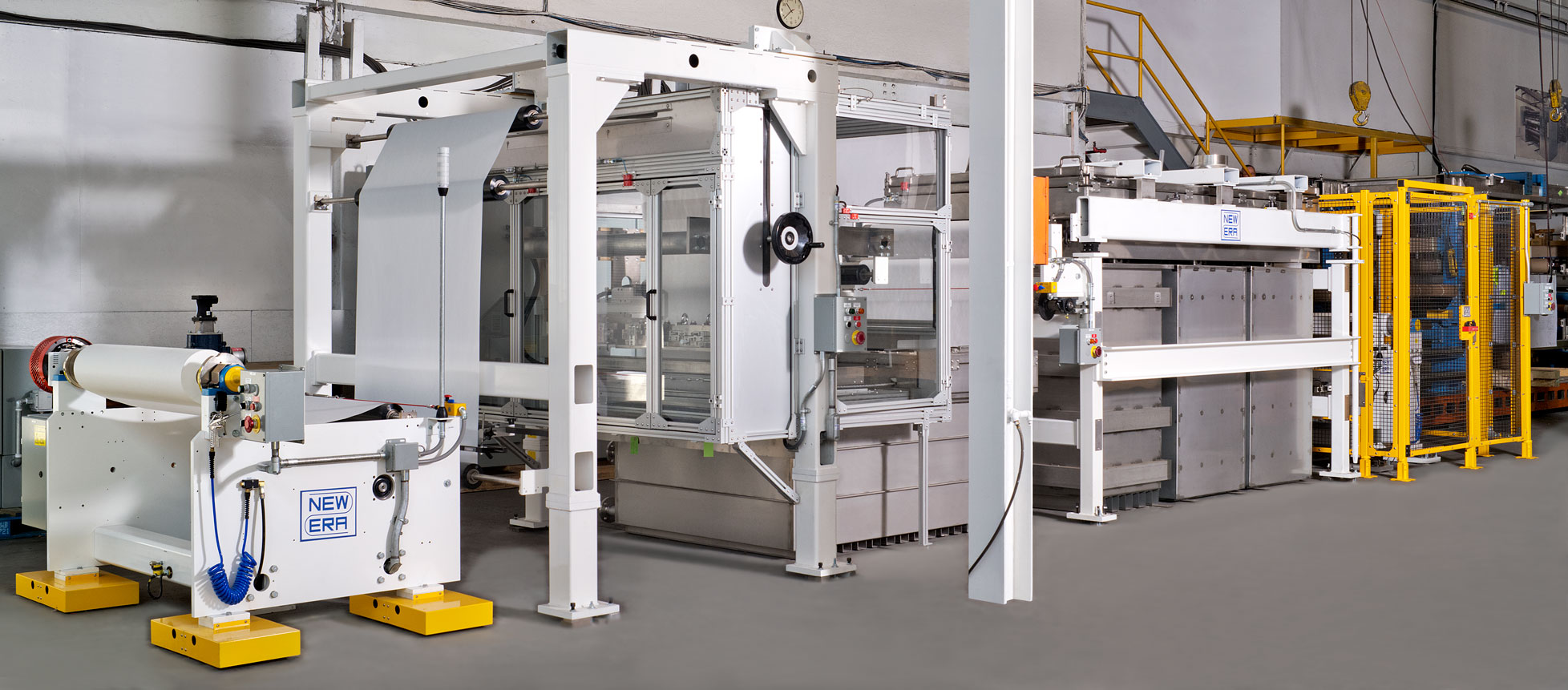 This video shows a versatile, CE Compliant, Membrane Casting Pilot/Production line set up for customer acceptance at New Era. The line features a compact design with the ability to cast 41" wide full width non woven material, and incorporates the ability to allow our customer to test new products as well as provide production full width testing to eliminate smaller scale lab testing which in some cases may not dictate actual production width performance.
The line features a single position, guided unwind, slot die coater with adjustable length from the slot die to the water line and compact design enclosure system, solution delivery system with exhausted enclosure, insulated quench tank with provisions for heating or chilling of the fluid with the provided recirculation system provided by New Era.
The rinse system is of removable rack design for ease of maintenance and consists of 3 insulated tanks that are heated via recirculation systems designed specifically to the customer's needs by New Era. Winding is achieved by the use of a single position guided winder complete with pack and gap winding capabilities as well as stainless steel drip pans to catch any fluids during the winding process.
The drive and control system includes Allen Bradley components designed by New Era to effectively transport the web, while maintaining excellent tension control throughout the process. HMI's are provided for operator interface and ease of operation. With safety in mind, all moving components are guarded and safety devices are located where necessary to ensure operator safety.
New Era has provided membrane casting, coating and drying lines that are running in multiple countries in North America, Europe and Asia.  These equipment lines are for the fabrication of a wide variety of supported and unsupported membranes including RO-Reverse Osmosis, FO- Forward Osmosis, NF- Nanofiltration, UF- Ultrafiltration, and MF- Microfiltration.  These projects have been for applications including RO water, brackish water, fresh water, dairy, air, gases and biological fluids.  The coating  equipment supplied has been built for aqueous solutions, organic solutions and surface treatment/protective coatings.  These coatings including water, acetone, Isopar, IPA, MPD, methanol, PVA and TMC.
We have experience with membrane coating lines having two, three or four coating stations.  The coating methods we have implemented are dip (with or without post coating metering), die (supported, unsupported and curtain), kiss, knife over roll, knife over table, mayer rod, spray (with or without post coating metering), two roll, meniscus and several proprietary methods including "wet on wet" applications.   These membrane equipment lines can be provided roll to roll/non-continuous operation to fully automatic/continuous processing.  Additionally, our membrane coating, casting and drying lines are provided with fully integrated control systems complete with remote diagnostic capability.  These lines are also available with supervisory systems complete with data acquisition, real time and historic trending and recipe control.
Another key component of our experience with membrane casting and coating is our ability to provide fully integrated coating supply and recirculation systems which include pumps, tanks, filters, heat exchangers, pH monitoring/controlling and solution makeup control.  Our quench, rewetting, rinse, saturation and treatment tanks fabricated from a wide variety of materials including polypropylene, Teflon (coated), 304 SS, 316 SS and Hastelloy are built to handle a wide variety of fluids/chemicals.  These fluids/chemicals include water, citric acid, glycerin and methanol.  We offer a range of tank designs including removable rolls, non-contact (fluid greased) rolls and tanks designed with rolls contacting only one (non-coated) side of the web.  These fully integrated tank recirculation systems include pumps, filters, heat exchangers, pH monitoring/controlling, fluid makeup control and tank level control.